Independent, Trusted, Insured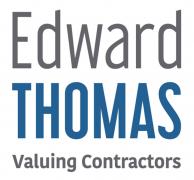 Edward Thomas
Edward Thomas is one of the leading payroll providers in the UK and offers a fully compliant suite of boutique payroll services for all entities engaged in the temporary staffing supply chain; these include Umbrella, PAYE, CIS & Joint Employment arrangements.
Underpinned by a contractor-focused ethos, Edward Thomas recognises its pivotal position within the successful supply of assignment labour and is committed to supporting the commercial interests of all stakeholders be they recruitment agencies, contractors, hirers or employers.
Headquartered in Barnes, London Edward Thomas is a national organisation with regional business hubs in Cheshire, Essex, Kent & Wales which enables us to service clients irrespective of location. We are also a multiple-sector payroll provider with specific expertise in the following arenas:
Automotive & Aviation
Construction, Engineering & Rail
Education
Healthcare
Industrial, Manufacturing & Logistics
Our commercial proposition features an array of additional benefits which are highlighted below:
Agency Benefits
Fully compliant choice of payroll solutions.
Flexible daily & weekly payroll runs.
Competitive margins & payment terms.
Mutually advantageous contract arrangements.
Dedicated account & business development managers.
Contractor Benefits
Compliant payroll options to maximise gross-to-net earnings.
Tax & NI contributions paid at source.
Transparent calculations & unambiguous payslips.
Wage advances upon request & approval.
Enhanced 'LifeWorks' contractor benefits package.
Edward Thomas is an ethical company dedicated to forging meaningful commercial relationships with businesses and individuals who share our vision and values. Entrepreneurial by nature, we welcome enquires from ambitious organisations committed to professional excellence and best business practice.
T: 0203 892 9346
The following registered company numbers confirm the companies that have been considered as part of the Professional Passport compliance review for Edward Thomas
12107348
Please check the details of the company you are dealing with as we have had instances of companies that have not been reviewed by us using similar names and this has caused confusion. If the company is not listed here then it has not been reviewed and we would ask you to let us know this through our
Report a Concern form
.
Back to top