Independent, Trusted, Insured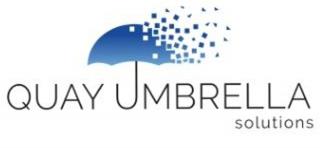 Quay Umbrella Solutions
Quay Umbrella Solutions offer a stress free payment service so you can concentrate on your work without the worry of getting paid. Our company ethos is valued around you so we ensure we are on hand to assist with queries, guide you along your way whilst educating you on changes in the contracting industry.
T: 0161 413 6013
The following registered company numbers confirm the companies that have been considered as part of the Professional Passport compliance review for Quay Umbrella Solutions
11831655
Please check the details of the company you are dealing with as we have had instances of companies that have not been reviewed by us using similar names and this has caused confusion. If the company is not listed here then it has not been reviewed and we would ask you to let us know this through our
Report a Concern form
.
Back to top