Independent, Trusted, Insured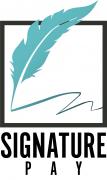 Signature Pay
Our team has extensive experience looking after contracting professionals, helping them get paid on time, correctly and with minimal fuss. We provide a quick and easy onboarding process, take pride in our compliance standards and procedures, provide you with your own account manager and most importantly deliver the highest possible service levels and support whenever you require it.
T: 0161 399 1475
The following registered company numbers confirm the companies that have been considered as part of the Professional Passport compliance review for Signature Pay
14363553
Please check the details of the company you are dealing with as we have had instances of companies that have not been reviewed by us using similar names and this has caused confusion. If the company is not listed here then it has not been reviewed and we would ask you to let us know this through our
Report a Concern form
.
Back to top